What makes a great dog friendly cafe in Coventry?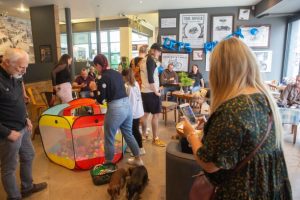 As a city of dog lovers, many visitors to Coventry City Centre will be looking for a dog-friendly coffee shop which welcomes our canine friends.
16 Hales St, found inside Coventry Transport Museum, is known as one of the best dog-friendly cafes in Coventry - our company name Baxter Baristas is even named after our owner's dog, Baxter (who is an amazing host and has often been voted employee of the month!).
After a tough couple of years for lots of dogs (many of them unable to socialise due to lockdowns and restrictions), we think it is important for them to feel welcomed and celebrated now life has returned to normality for most people!
Here's a few examples of what makes 16 Hales St such a great dog-friendly coffee shop in Coventry:
A friendly welcome - the staff at 16 Hales St are huge fans of dogs of all shapes and sizes - you may even find they'll ask for a photo of your furry friend for our social media.
Puppuccino - our famous puppuccinos (made of a small cup of whipped cream) are FREE and a tasty treat for your pooch when you visit us!
Baxter's Dachshund Cafe - Baxter, our coffee shop mascot, regular holds his 'Dachshund Cafe' meet-ups where dachshund's from across the city are invited for a get together, a puppuccino and some free dog treats, ball pits and toys!
Canine station - we have a dedicated area for dogs which includes some dog treats and water-bowls to make sure your dog feels totally at ease during their visit.
Spacious area - the coffee shop is a large space, so if your dog is a bit nervous about being close to other dogs or people, rest assured that there will be enough space for them to feel comfortable!
Next time you are in Coventry City Centre with your furry friends, feel free to pay us a visit at 16 Hales St inside the Coventry Transport Museum.